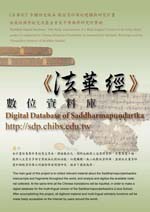 This is the English home page of the "Saddharmapuṇḍarīkasutra database"web site. The database consists of the Saddharmapuṇḍarīkasutra (SDP) and its Commentaries, including texts in Chinese and Sanskrit.

While the contents are mostly in Chinese, the English pages provide information such as project introduction and how to use the database. You may click on the links below to view the English web pages or return to the Chinese interface. We suggest new users to view the "User's guide" before starting using the database. Any feedback will be welcomed.
Project team: Bhikkhu Huimin, Lee Chih-Fu, Mitomo Kenyo, Tu Aming & the The SDP Group, Chung Hwa Institute of Buddhist Studies

Buddhist Digital Database: The Study and Creation of a Multi-Lingual Version of the Lotus Sutra project is supported by Chiang Ching-Kuo Foundation for International Scholarly Exchange and the Chung-Haw Institute of Buddhist Studies.